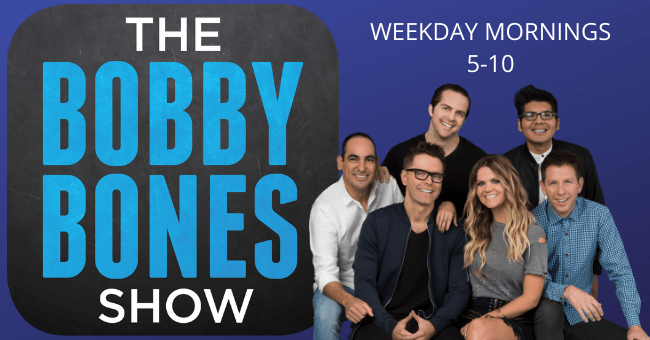 Wake up with Bobby Bones and friends weekdays from 5-10 a.m. with "Coffee Country," tons of fun, and visits from your favorite country superstars in the studio!
The Bobby Bones Show won the ACM Award for National On-Air Personality in 2014, 2016, 2018, and 2020. It won a CMA Award for National Personality in 2017 and 2019. In 2017, Bobby Bones was inducted into the National Radio Hall of Fame. He is the youngest inductee to ever receive this honor.
---
Personalities Associated with the show:
Amy: a mom, a wife, and co-host of The Bobby Bones Show.
Aside from her "on-air" career, she is the co-founder of #PIMPINJOY (a movement that's all about choosing joy & spreading joy) and ESPWA (a clothing & accessories line that benefits organizations in Haiti). Amy and her husband adopted 2 kids from Haiti in 2017, so Haiti will always have a very special place in Amy's heart.
Raising two kids, being a wife, and working full-time keeps Amy busy…but in her free time you'll find her outside on a walk or a hike if the weather is right, watching something awesome on Netflix, using her waffle maker, doing some yoga, or on a really good day: reading a book on the couch with a matcha latte!

Bobby Bones
Facebook
Twitter
Instagram
Website
Bobby Bones is the self-deprecating host of The Bobby Bones Show, but this true Arkansas boy has a lot more going on than just doing radio from 5 a.m. to 10 a.m. every weekday.
During the day he moonlights as a New York Times Best Selling Author for both of his books Bare Bones: I'm Not Lonely If You're Reading This Book and Fail Until You Don't: Fight. Grind. Repeat. He is also one-half of the comedy duo The Raging Idiots (with Producer Eddie), where they have raised millions for charity and racked up a couple milestones of their own: No. 1 Comedy Album and Top 5 Country Album for The Critics Give It 5 Stars. He has done multiple comedy tours including Funny and Alone in 2017, Red Hoodie Comedy Tour in 2018, and It's Just The Two Of Us, Sorry! Tour in 2019.
Not only is he an author, artist, and comedian, Bones also works on several television projects. He was the first ever full time mentor for "American Idol" and continues to be, he was crowned the winner on Season 27 of "Dancing With The Stars", and currently hosts "Opry" on the new Circle Network.
Hi, my name is Eddie. I am the video producer and one of the voices on the Bobby Bones Show. I am a husband, father of four (two kids through foster care), 1/2 of the music comedy duo The Raging Idiots, and a Professional Podcaster.
I was born and raised in McAllen, Texas. I received a bachelors in Radio, Television and Film from Sam Houston State University and met Bobby and the crew in Austin, Texas while working as a producer for an entertainment TV station. I now live in Nashville, LOVE to fish, play golf, the Dallas Cowboys, watching black & white movies and traveling the country with my band the Raging Idiots.
Make sure and listen to my weekly sports podcast with my friends Lunchbox and Ray called The Sore Losers, which features on the Nashville Podcast Network.
Lunchbox is a married man now and the proud father of two amazing sons. Lunchbox grew up in the mean streets of Austin, Texas where he was a member of the Little White Criminals. After being crowned Prom King in high school he took his talents south to The University of Texas at San Antonio. With 3 hours left to get his degree in Speech Communication and Public Relations he said goodbye to college and hello to The Bobby Bones Show.
Lunchbox has been part of the show for almost 17 years and calls himself the MVP of The Bobby Bones Show. He says he is happy where his career has taken him he is still disappointed his dream of being on MTV's The Real World never came true. You might recognize Lunchbox from his appearance on Jerry Springer, Friday Night Lights, or Celebrity Family Feud.
Lunchbox is like a fungus, he will slowly grow on you. The Man, The Myth, The Legend, that is Lunchbox.